Movie It Pennywise Halloween Costume Sale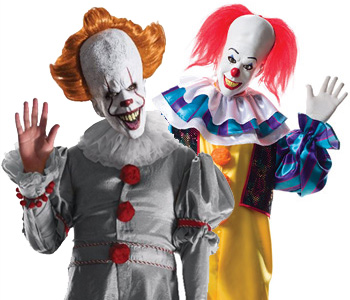 Clowns are always popular for Halloween! Some people have an unusually high fear of them! Especially now because we saw the return of the nightmarish clown Pennywise in Steven King's It movies. This season is your chance to disguise yourself as this scary cinematic clown! Seeing you in this outfit will be your friends' ultimate nightmare, especially if they have the fear of clowns! This nightmare character was first introduced to us in Stephen King's novel IT but we didn't see him come to life until Tim Curry played the character in the original 1990 TV movie It! Then we saw the new Pennywise clown return in the latest "It" theatrical film and the movie's sequel It Chapter 2. If you are more of the nostalgic type, you can choose the classic Pennywise clown costume from the Nineties or go with the new scarier version of Pennywise from the current movies!
Pennywise Halloween Costume Ideas
Original Pennywise Costume

---

New Movie It Pennywise Costume

---




Grand Heritage Pennywise Costume

---

New Movie It Pennywise Costume

---
It: Chapter One is the 2017 supernatural horror film which is a remake of the classic 1990 TV movie miniseries and film adaption of Stephen King's novel from 1986. This movie is directed by Andy Muschietti and written by screenwriters Chase Palmer, Gary Dauberman, and Cary Fukunaga. This film is part of a duology with the sequel being planned to be released on September 6, 2019 according to New Line Cinema. Gary Dauberman will script the sequel. The first movie focuses on the characters during their childhood who are terrorized by an evil demonic clown called Pennywise. The movie opened to box office and critical success. It ended up grossing over $556 million worldwide making it the highest grossing horror movie in history!
It Chapter 2 (2019) Theatrical Trailer
Theatrical Remake It (2017) Trailer
Original It (1990) TV Movie Trailer