Donald Trump Halloween Masks for Sale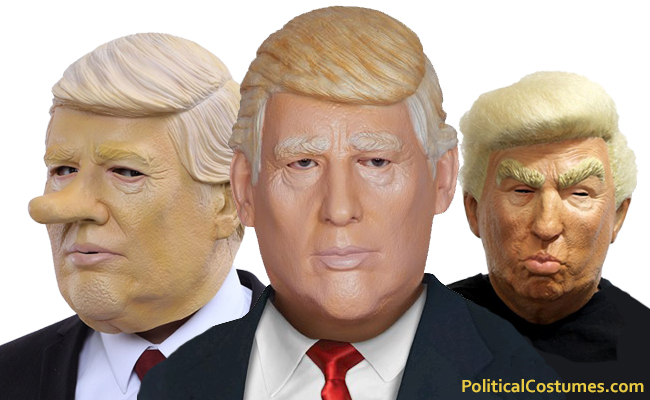 Whether you're going to a fun Halloween costume party or serious political rally, President Donald Trump masks are the most controversial masks to wear for 2020. Donald Trump surprised many people around the world by winning America's most heated Presidential election in history. The incredible media frenzy over US politics was due to this celebrity billionaire who overcame his political rivals and critics to become the GOP's most polarizing president of the United States. The once long-shot Republican contender for the presidency has become the ultimate American media sensation due to his outspoken political views and behavior. After many controversial twists and turns, we are now heading into another controversial election year! Whichever side you are on, now is your chance to make a statement with your own Donald Trump costume for this Halloween season.
Best Donald Trump Costume Ideas
Deluxe Donald Trump Mask

This is one of the popular deluxe quality Trump Halloween masks for this season. You can also wear these full size adult masks at political events and rallies!

---
Doncchio The Pinocchio Donald Trump Mask

If you think the President tells too many untruths and have strong opinions against him, you will prefer this unflattering Pinocchio Donald Trump mask for Halloween! This controversial Pinocchio Trump mask is also known as the Doncchio mask. You can wear these adult masks at political events and rallies if you want to turn heads and attract some attention!

---
Pouting Trump Mask

This Halloween mask captures President Trump's iconic pout expression that you see on comedy kits like the one with Alec Baldwin on Saturday Night Live so people will instantly recognize who you are! This mask fits most adults.

---
Vladimir Putin Halloween Mask

This is the new deluxe Putin mask for Halloween. Disguise yourself as Vladimir Putin, the current Russian president and former KGB agent for the Soviet Union.

---
North Korea Kim Jong Un Mask

Now you can dress up as the infamous dictator of North Korea Kim Jong Un for Halloween this season! Only a limited amount in stock left so buy your own rocketman Kim Jung Halloween mask before they are sold out!

---
Big Head Melania Trump Mask

If you want to be the first supermodel First Lady for Halloween, we recommend this oversized Melania mask!

---
Donald Trump Toilet Paper

If you dislike billionaire Donald Trump, make yourself feel better with his personalized brand of toilet paper.

---
Giant Donald Trump Head Mask

If you want a head mask that matches the size of his ego, you can put on this exclusive big head Donald Trump mask featuring his hilarious smirk expression. Mask dimensions are 16.5"H X 13"L.

---
Trump Head on a Stick Mask

If you want his head on a "popsicle" stick, you should get this Trump on a wood stick head mask.

---
Donald Trump Wig

If you don't want to wear a mask, you can go with this blonde men's wig shaped like his iconic hairstyle.

---
If you want to step into the shoes of our current president and experience the power and controversy of Trump this Halloween season, put on one of these deluxe Donald Trump mask. If you are look like him, you can just get one of his wigs to mimic his trademark hairstyle! There are all sorts of props that you can wear to reconstruct America's most controversial president in history! Love him or hate him, he will be a popular man of this season.