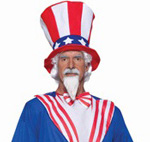 Looking for an Uncle Sam costume for your next patriotic festival? We suggest these best Uncle Sam costumes listed on this page to celebrate America's favorite national holiday, Independence Day! Choose the right outfit that shows your patriotism and celebrates independence. Whether you are looking for a patriotic Halloween costume or an all-American Fourth of July costume, look no further; Uncle Sam is here for you. This iconic character is typically depicted as an elderly man with a white beard, top hat and dressed in the colors of the American Flag. You can get creative with your costume and personalize it to make it your own style. Even the ladies can find sexy patriotic costumes to emulate America's greatest patriot. An Uncle Sam attire shows your pride in freedom, liberty and the American Dream!
Uncle Sam Costume Ideas for 2021

Uncle Sam Mascot

Adult Uncle Sam
| | |
| --- | --- |
| 2X Plus Size Classic Uncle Sam | Plus Size Uncle Sam Costume |
| | |
| --- | --- |
| Kids Uncle Sam Costume | Uncle Sam Hat & Beard Kit |
Make your Uncle Sam costume stand out by personalizing it with patriotic accessories. The American Flag is a great choice and fits the patriotism theme very well. A classic Uncle Sam Top Hat with a blue stripe and white stars is a great accessory to have as well. A nice bow-tie incorporating the stars & stripes of our flag is a costume accessory that will give your Uncle Sam Costume some distinction. If you feel like taking it a little further (and you are a meathead) some temporary tattoos of the American Flag or other patriotic symbols can really make your Uncle Sam Costume stand out and bring a modern feel to the costume.
First used during the War of 1812 and first illustrated in 1852, Uncle Sam has become a readily recognizable icon of the United States — a national personification, if you will. Typically, Uncle Sam is portrayed as a wise old man with white hair and a white goatee and he always wears a gentleman's outfit that brings to mind the American flag in red, white, and blue. Show your love for the nation; get into an Uncle Sam costume!
The question is not whether Uncle Sam wants you because you already know that he always does. The real question is whether or not you want Uncle Sam. The very dapper Uncle Sam Adult Costume consists of a red, white, and blue outfit that features an elegant blue tail coat with red and white striped lapels and two rows of white buttons; a pair of red and white striped pants; red and white striped bow-ties; and a red and white striped top hat with a decorative banding featuring white stars on a blue background. Add a white goatee and a matching white-haired wig and a pair of white gloves and you'll be instantly transformed.
This adorable child in red, white and blue makes your heart leap with joy. The cute Uncle Sam Child Costume is comprised of a blue jacket with tails that features red and white striped lapels and matching red and white striped wrist cuffs; an attached white shirt front with bright red bow-ties; and a pair of red and white striped pants. Add a red, white, and blue top hat, a pair of white gloves and a goatee with a matching wig and your all American child is on display while doing you very proud.