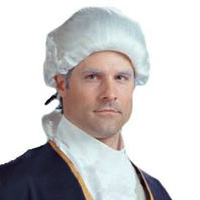 Celebrate Independence Day (July 4th 2018) this Wednesday by suiting up as our country's founding father, George Washington, who became the first official President of the United States of America and built a strong foundation for the country. Acting as commander in chief during the Revolutionary War (1775–1783), he helped lead the Americans to win independence from the British Empire. This great man also helped draft the United States constitution in 1787 and was officially elected by the public in 1789 (winning 100 percent of the electoral votes) to become the US President. He served for two terms and refused to run for a third term. President Washington played a huge role in the birth and success of the country. For this reason, this historical figure remains to be a very popular costume character for both children and adults for patriotic events, celebrations, and Halloween!

Theatrical Quality George Washington Costume

If you have high expectations and need a rental quality costume, we recommend this great colonial era general outfit from the Grand Heritage collection! This super deluxe General Washington costume for adults is great for theatrical stage productions and historical re-enactments.

---
Boy's George Washington Costume

This colonial costume for kids includes a blue colonial coat, tan shirt with vest-front, matching pants, and tri-corn hat. A very stylish child George Washington costume at an affordable price.

---
George Washington Disguise Kit

This Heroes In History disguise kit includes a colonial white wig and collar jabot.

---



Colonial Hat with Wig Child

This classic black tricorn style hat with attached white wig with ponytail will complement any colonial outfit.

---
Children documentary of President Washington.
George Washington's Birthday is February 22nd so if you like to celebrate our first President of the United States, you can consider dressing up like him to honor his patriotism.